Caitlin grew up in Pomerene, AZ through 8th grade before moving to Virginia until 2015. She attended Virginia Tech in Blacksburg, VA for her B.S. in Human Nutrition Foods and Exercise before completing her Doctor of Physical Therapy degree at Old Dominion University in Norfolk, VA. During her time at Virginia Tech, she played on the women's volleyball team, which allowed her to compete year round on a national level. Also during her time at VT, she developed a passion for the profession of physical therapy. .......
Heidi Biehl
PT, DPT, OCS, CSCS, SFMAc, CFSC
Manager
Heidi grew up in Great Falls, Montana. She attended Montana State University in Bozeman receiving a B.S in Exercise Science. She then attended University of Montana in Missoula for her doctorate in physical therapy. During her undergraduate and first year of physical therapy school, Heidi split her time between school and competing for the track and field teams at each respective school. Sports, injuries, surgeries and rehabilitation have guided her to study and love physical therapy....
Jordan Bork
PT, DPT, CSCS, CFSC
Jordan grew up in Kirkland, Washington and attended Juanita High School where he played basketball and baseball. After his days at JHS Jordan moved to the eastern side of the state to attend Washington State University. Throughout his time in Pullman, Jordan was involved in intramural sports, several local clubs and served as the community service chairman for his fraternity.
Anne Harmon Grout
PT, MSPT, BSHSE
Anne grew up in Ft. Myers, Florida. She loved gymnastics and competed in the private club sector until early high school. Wanting to be more involved in high school athletics, she transitioned to competition cheerleading. Anne had the opportunity to attend UCA National Cheerleading Competition two times in Orlando, FL representing Ft. Myers High School in the beginning years of competitive cheerleading. Treating gymnasts and cheerleaders continues to be an interest of hers.....
Justin was raised in Lake Forest, California where he attended University of California,
Irvine. He grew up playing basketball. During his time at UCI, he came across break dancing. This lead to his involvement with ballet dancers and the UCI Dance Medicine department. This exposure to dancers and his own
injuries sparked his interests in the robust body and how rehabilitation can empower individuals to recover through movement. In 2014, he moved out of his bubble to NYC to....
Natalie Kinney
PTA, Office Manager
Natalie grew up in Kirkland, WA where she attended Juanita High School and enjoyed participating in soccer, gymnastics and track. She then went to the University of Washington where she earned a B.A. in Geography with an emphasis in Globalization, Health and Development, all while also completing the necessary prerequisites in order to pursue physical therapy. It was her anatomy and physiology course that initially sparked her interest in the human body....
Victor Kollar
PT, DPT, TPIc
While Victor was born in Toronto, Ontario, he grew up on the eastside in Redmond for most of his life. He attended the International Community School in Kirkland and went on to receive his BS in Human Physiology from Gonzaga University in 2013. Victor has a long history with Lake Washington Physical Therapy. He first shadowed Ben Wobker and Matt Sato when he was in college and then returned to work for them as an aide before starting grad school. He also took this time to become.......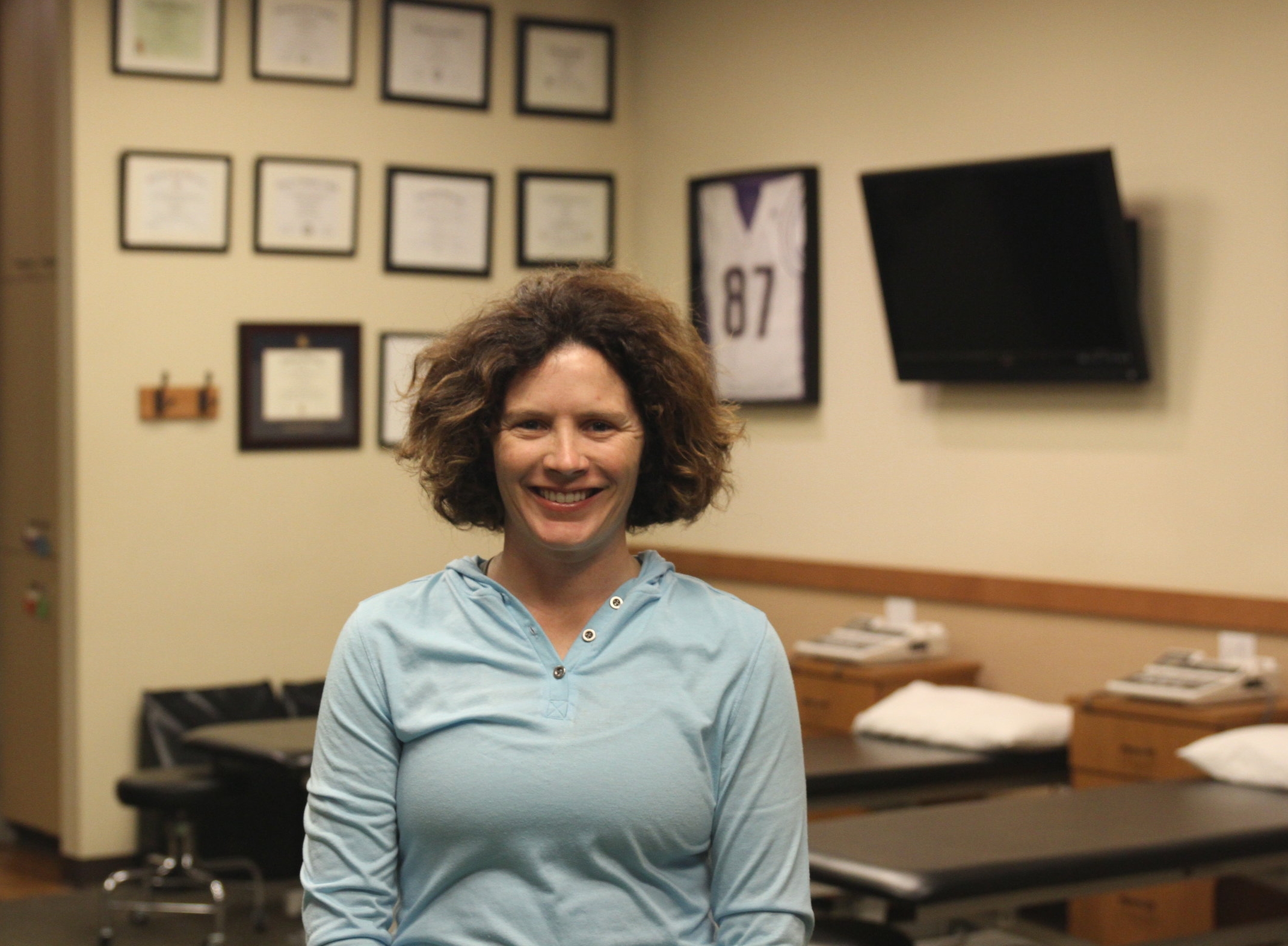 Mandie Majerus
PT, MSPT, OCS, CSCS, SFMAc, CMPT

Manager
Mandie grew up in the Big Sky country of Bozeman, Montana. This led to her great appreciation of the outdoors. She attended Montana State University for her undergraduate work in Exercise Science. She then attended the University of Montana in Missoula for her masters in physical therapy. Mandie has a drive to help individuals meet their goals and she is active in the development of a patient's rehabilitative program. These are many of the same qualities that she trains by to be successful in her own athletic endeavors....
Kelly McGivern
PT, DPT, TPIc
Kelly grew up in Kirkland, Washington where she attended Lake Washington High School. She then attended Western Washington University where she
graduated with a Bachelors of Science degree in Kinesiology and a focus in pre-physical therapy. She spent a year gaining expertise and knowledge as
an aide for Lake Washington Physical Therapy in downtown Kirkland. After this experience she furthered her education at University of St. Augustine
for Health Sciences in San Diego, California. She received her Doctorate in Physical Therapy with a focus on spinal and extremity manual therapy. Kelly's passion is working in outpatient orthopedics. She loves the wide variety of ages and pathologies she is exposed to on a daily basis....
Joe Nance
PT, MPT, OCS, COMT, FAAOMPT, ATC
Joe grew up in Issaquah, WA and obtained his Bachelor's degree in Exercise and Sports Science from Western Washington University where he played varsity football for three years. A year after his graduation from WWU, Joe received his Certified Strength and Conditioning Specialist Certification (CSCS). Following his degree from WWU, Joe attended the University of Puget Sound and completed his Masters in Physical Therapy. While attending UPS, Joe earned his Athletic Training Certification (ATC) working with all varsity sports. Furthermore, while at UPS, Joe and a fellow student started an athletic performance enhancement business working with high school and college athletes to improve their speed, agility, and athleticism.
Megan O'Connell
PT, DPT, MTC
Megan grew up in Sammamish, WA where she attended Skyline High school. She did her undergraduate studies at Western Washington University where she ran Track and Field for the Vikings for four years. She graduated in from WWU with a BS in Kinesiology. After graduating, she spent two years gaining more experience in the field of physical therapy at Lake Washington Physical Therapy as an aide. Megan also coached the Skyline Track and Field distance team for two seasons. She then went on to further her education at University of St. Augustine for Health Sciences in San Diego.......
Jessica Pare'
PT, MPT, OCS, SCS,
Ed Coordinator
Jessica grew up in Redmond and was very involved in the soccer community during her youth. It was a soccer injury at age 12 that inspired her to become a PT. She volunteered and worked in physical therapy clinics until she left for college.

Jessica moved to Pittsburgh, PA to attend Duquesne University's freshman-entry PT school. She was also NCAA Division I varsity rower for the Dukes. She loved her experience in Pittsburgh.....
Matt Sato
PT, DPT, TPIc, SFMAc
Owner Houghton Clinic
Matt grew up in Duvall where he attended Cedarcrest High School . He did his undergraduate studies at Western Washington University where he graduated in 2004 with a BS in Exercise Science/Pre-Physical Therapy. After graduating, he spent a year gaining more experience in the field of physical therapy and became the first Aide at Redmond Physical Therapy. He then went on to further his education at Loma Linda University in Southern California.....
Samantha grew up in Helena, MT. She attended Montana State University in Bozeman, earning a bachelor's degree in Cell Biology and Neuroscience and taking many additional courses in Exercise Science. Her interest in healthcare led her to work as a physical therapy aide throughout her undergraduate years, which is where she eventually discovered her passion for helping others through physical therapy. She moved to Washington and attended the University of Puget Sound in Tacoma, graduating with a doctorate in physical therapy in the summer of 2016. ....
Benjamin Wobker
PT, MSPT, CSCS, SFMAc
Founder & Director
Ben grew up in the Redmond area where he attended Redmond High School. He received a bachelors degree in psychology from the University of Montana in Missoula. Enjoying the Northern Rockies and a thirst for recreation Ben finished graduate school at Montana, receiving a Masters of Science and Physical Therapy (MSPT). Since graduation Ben has attended numerous continuing education courses with his focus being orthopedic and sports injuries.....