Anne Harmon Grout
PT, MSPT, BSHSE
Anne grew up in Ft. Myers, Florida. She loved gymnastics and competed in the private club sector until early high school. Wanting to be more involved in high school athletics, she transitioned to competition cheerleading. Anne had the opportunity to attend UCA National Cheerleading Competition two times in Orlando, FL representing Ft. Myers High School in the beginning years of competitive cheerleading. Treating gymnasts and cheerleaders continues to be an interest of hers.....
Justin was born and raised in Lake Forest, California and graduated from the University of California, Irvine. He decided to jump out of his comfort zone and move to New York City to attend NYU's Doctor of Physical Therapy Program.
As a kid, Justin played many sports including soccer, volleyball, and football, but found his love in basketball. While at UCI, he learned how to break dance and box. Around the same time, he developed severe low back and sciatic pain. Unfortunately he did not receive the best advice or rehab for his back until many years later. It was from that point on that he knew that he could combine his fascination of ,,,,,
Victor Kollar
PT, DPT, TPIc
While Victor was born in Toronto, Ontario, he grew up on the eastside in Redmond for most of his life. He attended the International Community School in Kirkland and went on to receive his BS in Human Physiology from Gonzaga University in 2013. Victor has a long history with Lake Washington Physical Therapy. He first shadowed Ben Wobker and Matt Sato when he was in college and then returned to work for them as an aide before starting grad school. He also took this time to become.......
Kelly McGivern
PT, DPT, TPIc
Kelly grew up in Kirkland, Washington where she attended Lake Washington High School. She then attended Western Washington University where she
graduated with a Bachelors of Science degree in Kinesiology and a focus in pre-physical therapy. She spent a year gaining expertise and knowledge as
an aide for Lake Washington Physical Therapy in downtown Kirkland. After this experience she furthered her education at University of St. Augustine
for Health Sciences in San Diego, California. She received her Doctorate in Physical Therapy with a focus on spinal and extremity manual therapy. Kelly's passion is working in outpatient orthopedics. She loves the wide variety of ages and pathologies she is exposed to on a daily basis...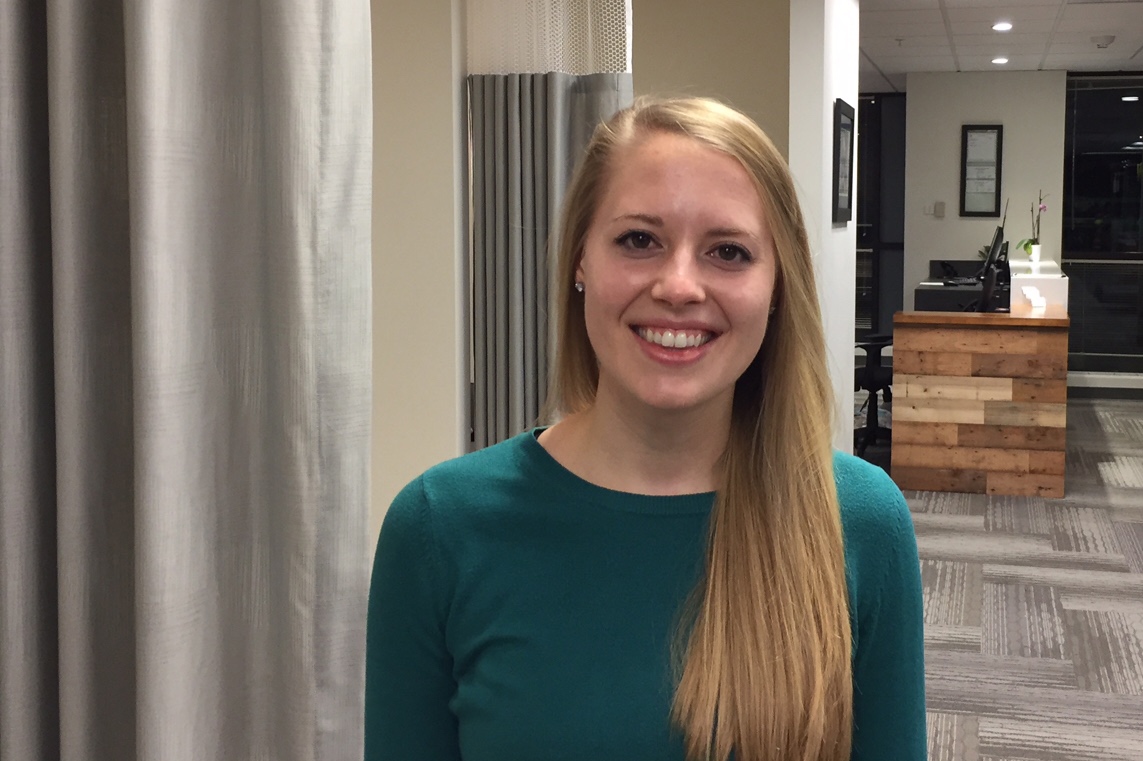 Samantha grew up in Helena, MT. She attended Montana State University in Bozeman, earning a bachelor's degree in Cell Biology and Neuroscience and taking many additional courses in Exercise Science. Her interest in healthcare led her to work as a physical therapy aide throughout her undergraduate years, which is where she eventually discovered her passion for helping others through physical therapy. She moved to Washington and attended the University of Puget Sound in Tacoma, graduating with a doctorate in physical therapy in the summer of 2016. ....
Stephanie Chudnofsky
Massage Therapist
Stephanie is a professional Licensed Massage Therapist, CrossFit Athlete & Postpartum Doula; Her expertise in professional client-care & customer service is extensive; with over 25 years of experience.

Stephanie works closely with multiple Physical Therapists, to stay sharp & aware of how to treat client's conditions as well as treat their muscle's needs on a higher level.

"I started RX Relief Massage Therapy to help people. I love working on CrossFit athletes…Desk Jockeys, Stay at home mamas, youth, teens…really every-body! Bringing relief to tired muscles & stressed bodies. I celebrate our differences as human bodies. No judgement or discrimination here. Come see me & you will receive professional care, specific to your needs. Deep Tissue, Sports, Relaxation, Tech-Neck & Shoulder Relief, Manual Lymphatic Drainage, RX & Scaled WOD Recovery, Cupping Therapy & more… "
Matt Sato
PT, DPT, TPIc, SFMAc
Owner Houghton Clinic
Matt grew up in Duvall where he attended Cedarcrest High School . He did his undergraduate studies at Western Washington University where he graduated in 2004 with a BS in Exercise Science/Pre-Physical Therapy. After graduating, he spent a year gaining more experience in the field of physical therapy and became the first Aide at Redmond Physical Therapy. He then went on to further his education at Loma Linda University in Southern California.....
Kelli Sato
Operations Manager
Kelli Sato is originally from Bellevue Washington, where she attended Interlake High School. She graduated from Western Washington University in 2004 with a degree in Exercise Science. Kelli and Matt met in their undergraduate program and were married in 2005. Kelli has worked as a rehab coordinator, a Starbucks Barista, and even a Badminton teacher.
In 2010 she got the opportunity to work as the office manager at Lake Washington PT. In 2016 her path took a new turn as she and Matt started to think about opening a clinic. Kelli manages the financial side of the business. It has been an interesting transition for her, as her youngest child started school to allow her to work every day.
When Kelli has spare time she likes reading, yoga, fantasy football and golf. She also makes a mean strawberry rhubarb pie. Kelli loves to spend time with her husband Matt, two kids and dog Wickett.
Olivia Smith
Rehabilitation Aide & Front Office
High School: Wenatchee High
College: Northwest University
Olivia grew up in Wenatchee, WA. She became passionate about physical therapy after getting rehabilitated from a snowboarding knee injury. She is currently attending Northwest University in order to earn a B.S. in Exercise Science. After graduating, Oliviaplans to continue her education and earn a doctorate in physical therapy. In her spare time she enjoys instructing snowboarding lessons, trail running, and backpacking. Her favorite area to backpack in is the Alpine Lakes Wilderness near Leavenworth, WA.
High School: Shoreline High School
College: Oregon State University

Savannah grew up in Shoreline, WA where she attended Shorecrest High School. All throughout high school she was involved in soccer, basketball, and track and field. She has always had a passion for sports, but it wasn't until college when she herniated a disc that she became interested in physical medicine. Savannah received her B.S in Kinesiology from Oregon State University. Savannah plans on applying to graduate programs to be a Physician Assistant. In her spare time, she enjoys exercising and being outdoors.
High School: Timberline High School
College: University of Washington

Sya grew up in Olympia, WA where she attended Timberline High School. She then went on to receive her B.S in Physiology along with minors in nutrition and philosophy from the University of Washington. Sya's interest in physical therapy began after a string of soccer injuries led to spending ample time in clinics. Currently she is preparing her applications for graduate programs in the healthcare field and working on earning additional sports certifications. In her free time she continues to pursue her passion for soccer, travel and the outdoors.
High School: International School
College: University of Washington
Kayley was born in Johannesburg, South Africa and grew up in Bellevue, WA where she attended the International High School. She was a competitive rower all throughout high school and went on to compete for the UW Women's Crew team. With a strong background in athletics, her passion for PT developed when she endured a stress fracture and SI joint displacement from rowing. Currently, she is completing her undergraduate degree in physiology and acquiring as much experience in the PT setting as possible. In her free time she loves to read, travel, play tennis, and run outdoors.