Downtown Kirkland Therapists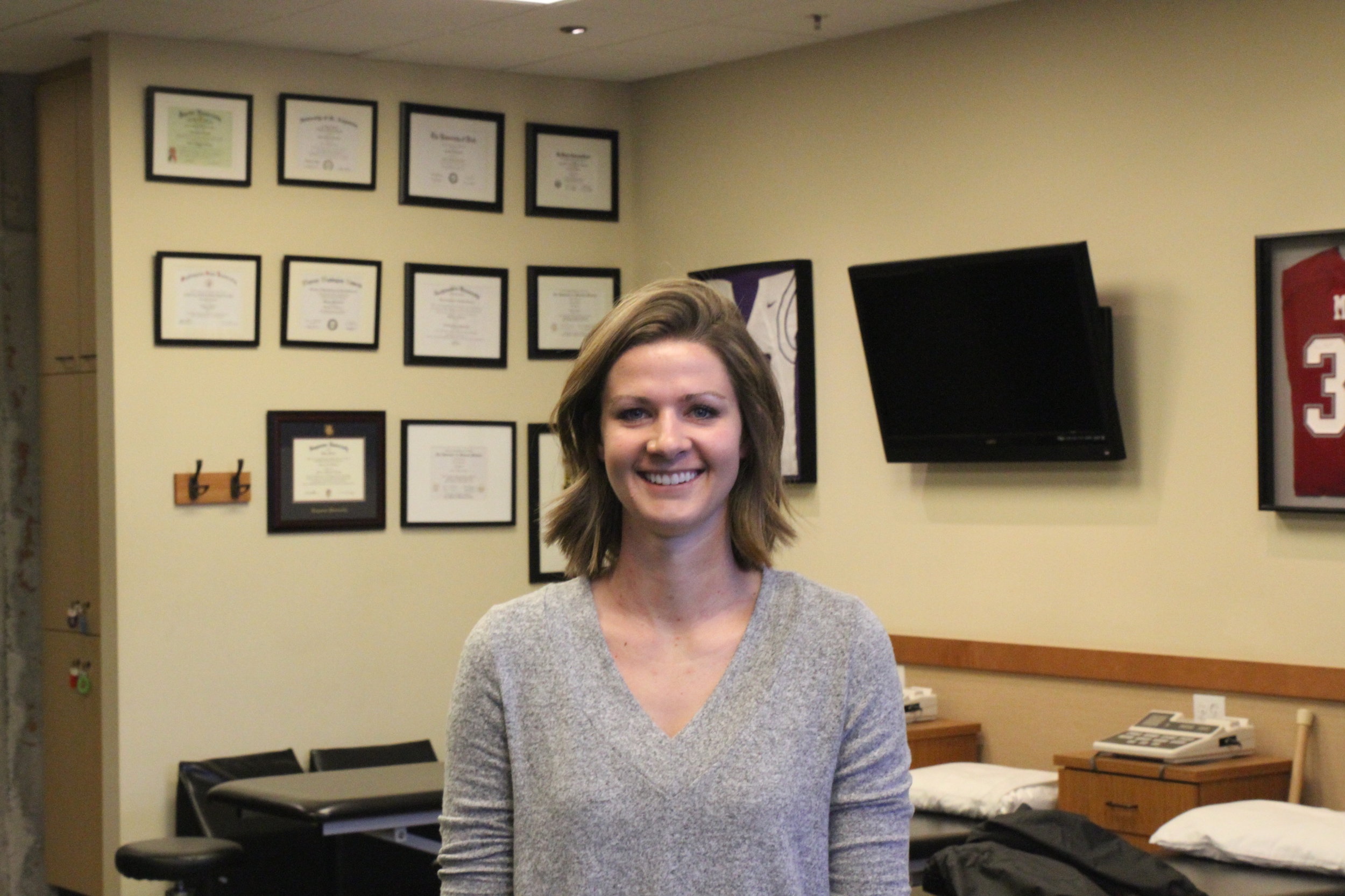 Caitlin grew up in Pomerene, AZ through 8th grade before moving to Virginia until 2015. She attended Virginia Tech in Blacksburg, VA for her B.S. in Human Nutrition Foods and Exercise before completing her Doctor of Physical Therapy degree at Old Dominion University in Norfolk, VA. During her time at Virginia Tech, she played on the women's volleyball team, which allowed her to compete year round on a national level. Also during her time at VT, she developed a passion for the profession of physical therapy. .......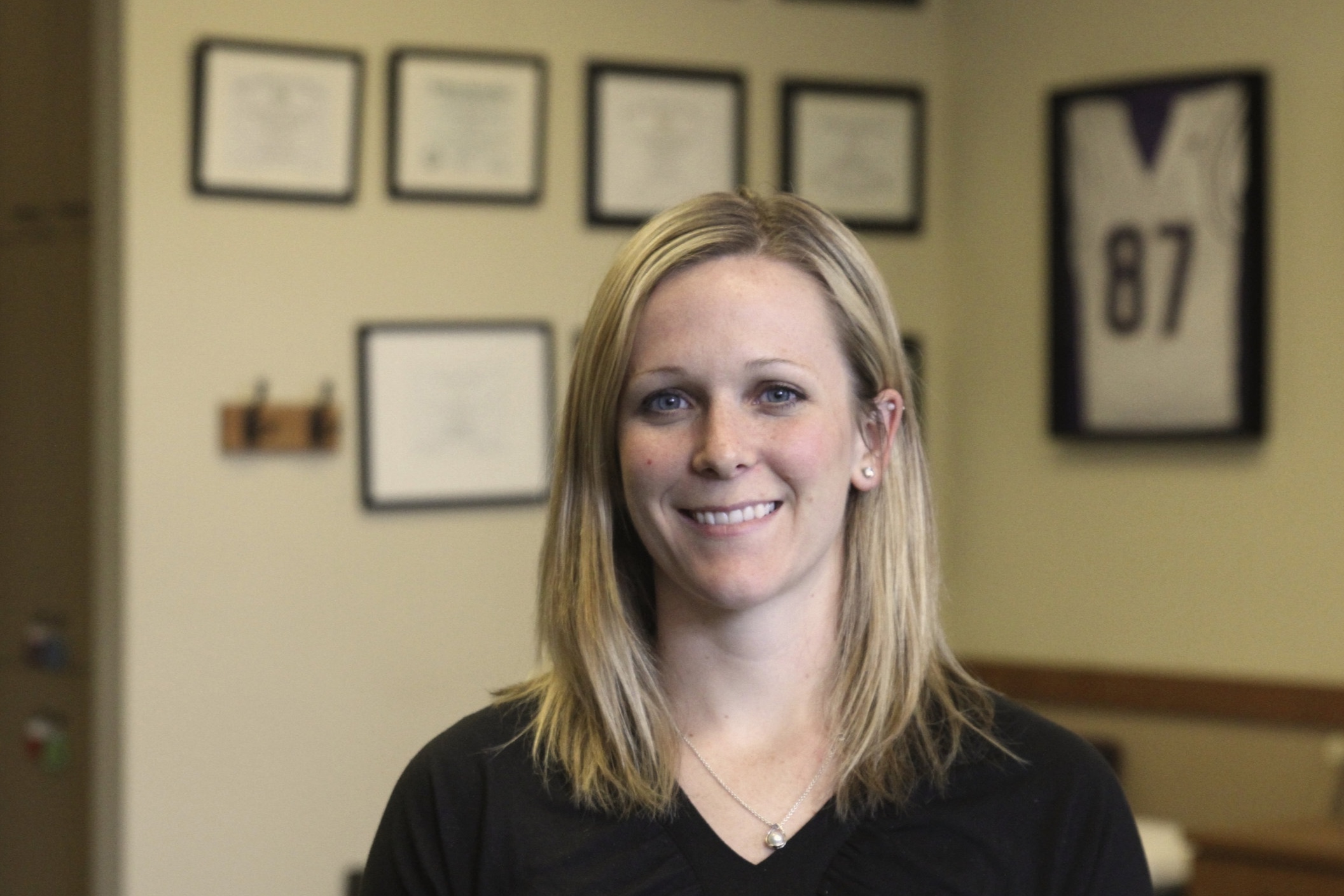 Heidi Biehl
PT, DPT, OCS, CSCS, SFMAc, CFSC
Manager
Heidi grew up in Great Falls, Montana. She attended Montana State University in Bozeman receiving a B.S in Exercise Science. She then attended University of Montana in Missoula for her doctorate in physical therapy. During her undergraduate and first year of physical therapy school, Heidi split her time between school and competing for the track and field teams at each respective school. Sports, injuries, surgeries and rehabilitation have guided her to study and love physical therapy....
Jordan Bork
PT, DPT, CSCS, CFSC
Jordan grew up in Kirkland, Washington and attended Juanita High School where he played basketball and baseball. After his days at JHS Jordan moved to the eastern side of the state to attend Washington State University. Throughout his time in Pullman, Jordan was involved in intramural sports, several local clubs and served as the community service chairman for his fraternity. ...
Kerri grew up in Kirkland, WA and attended The Overlake School where she played soccer and lacrosse. Kerri met Ben Wobker, Mandie Majerus, and the staff at Lake Washington Physical Therapy initially as a patient where they gave her the tools to continue being active. In the following years, she shadowed Ben and Mandie, which sparked her interest in the career of physical therapy……
Mandie Majerus
PT, MSPT, OCS, CSCS, SFMAc, CMPT

Manager
Mandie grew up in the Big Sky country of Bozeman, Montana. This led to her great appreciation of the outdoors. She attended Montana State University for her undergraduate work in Exercise Science. She then attended the University of Montana in Missoula for her masters in physical therapy. Mandie has a drive to help individuals meet their goals and she is active in the development of a patient's rehabilitative program. These are many of the same qualities that she trains by to be successful in her own athletic endeavors....
Megan O'Connell
PT, DPT, MTC
Megan grew up in Sammamish, WA where she attended Skyline High school. She did her undergraduate studies at Western Washington University where she ran Track and Field for the Vikings for four years. She graduated in from WWU with a BS in Kinesiology. After graduating, she spent two years gaining more experience in the field of physical therapy at Lake Washington Physical Therapy as an aide. Megan also coached the Skyline Track and Field distance team for two seasons. She then went on to further her education at University of St. Augustine for Health Sciences in San Diego.......
Jessica Pare'
PT, MPT, OCS, SCS,
Ed Coordinator
Jessica grew up in Redmond and was very involved in the soccer community during her youth. It was a soccer injury at age 12 that inspired her to become a PT. She volunteered and worked in physical therapy clinics until she left for college.

Jessica moved to Pittsburgh, PA to attend Duquesne University's freshman-entry PT school. She was also NCAA Division I varsity rower for the Dukes. She loved her experience in Pittsburgh.....
Natalie Kinney
PTA &
Office Manager
Natalie grew up in Kirkland, WA where she attended Juanita High School and enjoyed participating in soccer, gymnastics and track. She then went to the University of Washington where she earned a B.A. in Geography with an emphasis in Globalization, Health and Development, all while also completing the necessary prerequisites in order to pursue physical therapy. It was her anatomy and physiology course that initially sparked her interest in the human body....
Benjamin Wobker
PT, MSPT, CSCS, SFMAc
Founder & Director
Ben grew up in the Redmond area where he attended Redmond High School. He received a bachelors degree in psychology from the University of Montana in Missoula. Enjoying the Northern Rockies and a thirst for recreation Ben finished graduate school at Montana, receiving a Masters of Science and Physical Therapy (MSPT). Since graduation Ben has attended numerous continuing education courses with his focus being orthopedic and sports injuries.....
Ali Jorgensen
Rehabilitation Aide & Front Office
High School: Redmond
College: Oregon State University
Ali grew up in Redmond Washington, where she attended Redmond high school. She played many sports in high school including basketball, soccer, and cross county. Ali attended college at Oregon state university graduating with a degree in digital communication arts and a minor in environmental science. She continued to play basketball on a recreational level as well as coaching different teams and camps. She worked at the recreational center at OSU as a group fitness instructor and feel in love with helping people pursue their healthiest lifestyle. With a wide range of passions, she also enjoyed being a radio DJ for KBVR FM at OSU. After getting through two ACL tears and rehab with the help of LWPT, Ali discovered more of an interest in PT.
Besides work, Ali loves to stay active outside by hiking, biking, and running. She also loves to travel and experience different cultures.
Zach Church
Rehabilitation Aide & Front Office
High School: Inglemoor
College: Western Washington University
Zach grew up in Bothell, Washington where he attended Inglemoor High School. He has been an avid basketball and tennis player since childhood, playing competitively through high school as well as coaching both. The experience he gained working at Home Court, a local non profit organization that runs youth basketball camps, led him to pursing his bachelors in Kinesiology at Western Washington University, as well as a minor in Sport Psychology. Since graduating from college he has attained his personal training certification and has been working as a personal trainer, and as a program director at Home Court. His interest in physical therapy came from a desire to do more for some of his personal training clients who required more than his skill set could offer. In his free time Zach enjoys spending time outdoors, watching professional sports, as well as, playing video games, and reading.
Mia Dulude
Rehabilitation Aide
High School: University Prep
College: Syracuse University

Mia grew up in Bellevue and attended University Prep for high school. She played soccer and softball for U-Prep and also played for Lake Hills club select soccer for several years. Mia's interest in PT developed from a rehab experience she had at LWPT while she was still in high school, which led her to study health and exercise science at Syracuse. Since graduating in 2016, she has spent time working seasonally, spending two summers in Grand Teton National Park in Wyoming, and a winter ski instructing in Vail, Colorado. She has continued working as a children's ski instructor on weekends at Stevens Pass, where she enjoys teaching kids where she herself learned how to ski. In the summer months, you can find Mia on a hiking trail or on a lake kayaking, enjoying the outdoors. She also enjoys traveling and has even spent time volunteering in a PT clinic in Kathmandu, Nepal. Mia is working towards going to physical therapy school and hopes to incorporate her love for the outdoors and traveling, in addition to helping others, in her future career.
Saylor Martin
Rehabilitation Aide
High School: Redmond High School
College: Wisconsin
Saylor grew up in Redmond, WA where she attended Redmond High School. She first developed his interest for physical therapy in high school after injuring while rowing. She continued to row in college at Wisconsin University in Madison, WI. Saylor recently graduated with a major in Kinesiology- Exercise Movement Science and a certificate in Leadership. Aside from sports, Saylor has developed a passion for the outdoors over the years spent in the NW. She enjoys hiking, camping, walking her dog Hunter, trying new cafes and restaurants, and taking care of her avocado plant.
Kristin Willis
Rehabilitation Aide
High School: Inglemoor
College: Western Washington University
Kristin grew up in Woodinville and then attended Western Washington University in Bellingham. She is currently a senior studying kinesiology and exercise science. Kristin has had great experience with exercising dogs at both Paradise Pet Lodge and through Rover.com. Kristin fits right into our team as she has meaningful volunteer experience at both Tent City, Relay for Life, as well as a pivotal role at Kindering's annual auction.
Rachel Goodall
Rehabilitation Aide
High School: Redmond
College: University of Washington
Rachel grew up in Redmond,WA where she attended Redmond High School. She was a very avid volleyball player and loved being very active. She attends the University of Washington and is majoring in Food Systems, Nutrition, and Health. She got passionate about Physical Therapy when she got three concussions in four months and couldn't go a day without symptoms for many months. The Physical Therapists at Seattle Childrens helped her get back to her normal life and Rachel wants to help other people going through the same exprrience. Rachel loves running, volunteering at her Church, nannying, and coffee. She is currently taking classes at UW to apply to a PT program next year.
Cameron Veres
Rehabilitation Aide & PTA Student
High School: Lake Washington
College: Pacific Luthern University
Cameron grew up in Redmond, Washington and attended Lake Washington High School. His interest in physical therapy began in middle school after a minor knee sprain. Cameron observed Matt Sato and Ben Wobker at Redmond Physical therapy for his LWHS senior project, which confirmed his interest in studying Kinesiology at PLU. He has played soccer his whole life on teams including LWHS, Crossfire, NW Nationals, and PLU until he suffered two ACL ruptures during his freshman and sophomore years in college. Cameron is now enrolled at PIMA's physical therapy assistant program in Seattle.